I was one of the lucky few who actually 'won' one of the first Commodore 64 Reloaded (C64R) boards in the e-mail auction earlier this year (the board can be seen here). At that time I stumbled across a C64R thread on a German C64 forum (Forum64.de). The people there had concerns regarding the voltage of the SID music chip (MOS8580R5) as they had measured the Vdd voltage (pin 28) on their C64R boards at around 10.6V. They argued that it was a little too high as it should be around 9V. From what I understood, the problem was related to a wrong electronic component (a wrong sized diode at D5) that had been missed by the motherboard assembly company. Unfortunately, the fault was not identified until after the first wave of C64 Reloaded boards (the ones from the e-mail auction) had left Individual Computers.
Just to be sure that my board was actually affected I measured the Vcc (Pin 25) and Vdd (Pin 28) voltages on my C64R board using this diagram of the SID chip (MOS 8580R5).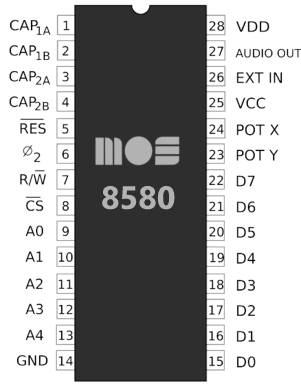 As evident from the images, the Vdd measured 11.09 V while the Vcc had a correct value of about 5V as expected.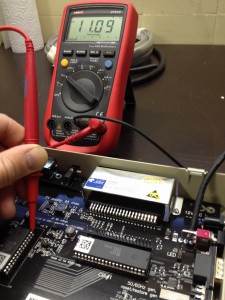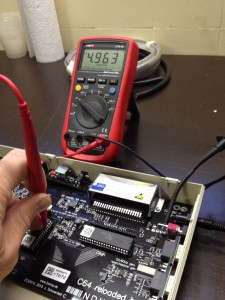 Without any hassle, the good people at Individual Computers told me that my board was among those that had been missed by the assembly company and that I should return it to get it fixed. They even refunded the shipping costs! When I got the fixed board back (including a little Ritter Sport chocolate) the Vdd line at pin 28 was reduced to a safer level at 8.31 V. The Vcc at pin 25 was unchanged after the fix.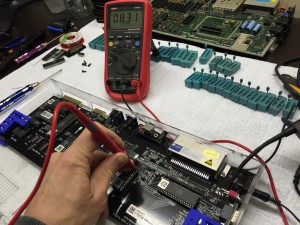 And that is it! My precious C64 Reloaded board was repaired and as good as new. I really must say that Individual Computers take their customer service serious!
© breadbox64.com 2015