This is an Assy no. 250469 Rev. 4 shortboard. The machine would start up with a completely black screen.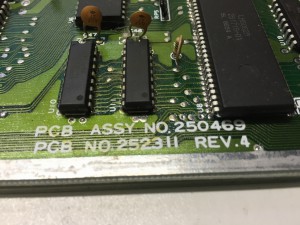 Flipping the power switch was far from being smooth. When the switch was actually turned on, it would make the screen flicker when being touched. I therefore started by replacing it with a new one.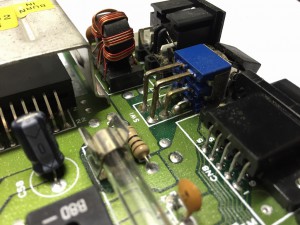 The easiest way to remove a broken power switch is by cutting all its legs and then remove them one by one.
I usually use soldering wick to remove broken parts and clean up the mounting holes.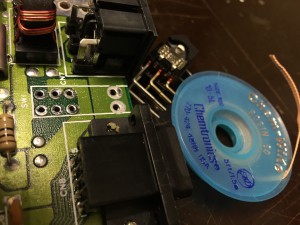 A fresh new power switch was soldered in to get the board a more stable supply of power. However, the the black screen remained…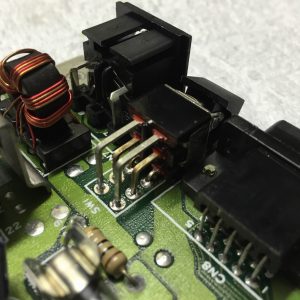 I then removed the SID (MOS 8580R5) from its socket,  swapped the VIC-II (MOS 8565R2) and the 8701 with known working ones to rule those ones out as well. Still a black screen. I then started touching the different IC's on the board and noticed that the two RAM IC's (M41464) at U10 and U11 would get really hot right after the machine had been turned on. I therefore started by removing the RAM chip at U11.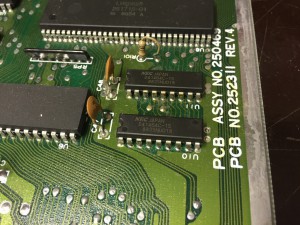 Again the legs were cut and then removed one by one.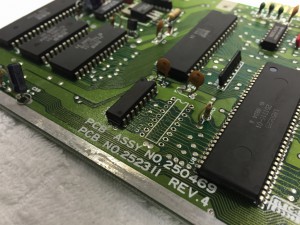 The capacitor at C48 had to be re-located on the underside of the board in order to make room for the ZIF (zero insertion force) socket that I decided to use instead of a standard IC socket on this particular board.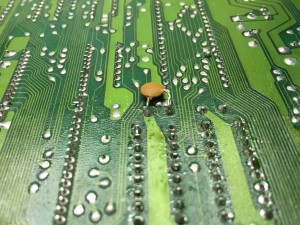 The black screen remained, so I removed the second RAM IC at U10. I did not have an extra socket, so the IC was soldered directly into the board (I usually never do this, and do not recommend it either, but I had other plans with the board when it was working again).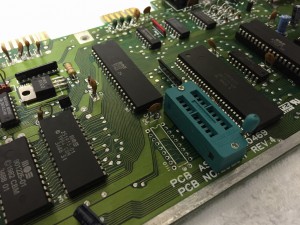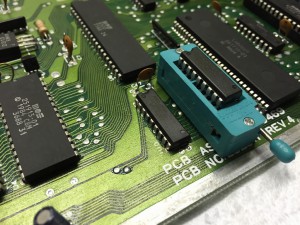 Still a black screen. Next IC that was on my short list was the MPU (MOS 8500) at U6.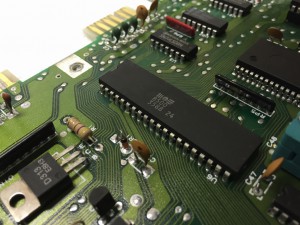 Again, I started by cutting the legs, removed them and installed another ZIF socket. The ZIF sockets (MPU and RAM) had to be trimmed a little in order to fit.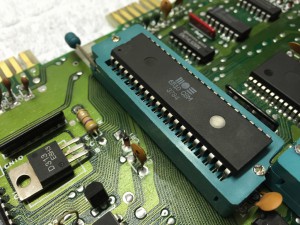 As I did not have a spare MOS 8500 at hand I temporarily swapped it with a working MOS 6510 MPU. I do not know if leaving in the older generation 6510 chip is something I would do permanetly, but for faultfinding it should be fine.