(Well, it's still work-in-progress but a protoype should soon be ready for testing…) During the last year or so, new Commodore 64 motherboards (link) and new Commodore 64C cases (link) have hit commercial retro market. On top of this (and hopefully very soon, Phase5!!) we'll also get new keycaps (link). To compliment all these great new items, several forum posts have discussed the possibility to produce new keyboards as well. However, so far I've only seen one who has actually made one and that was on deskthority (link). The keyboard is called 'MeC64' and it is based on mechanical Cherry MX switches. It can be used as a standard USB keyboard or as a C64 keyboard. As I'm only interested in getting new keyboards for my commies and nobody else out there want to make some for me, I have decided to do it myself (angry smiley!!!). In theory it should be quite simple to create a new keyboard PCB that would accommodate Cherry MX switches. It is basically a matter of copying the original keyboard PCB, have it made and start soldering… Well, as easy as it may sound, things like that still tend to take forever to complete… This post is to show the progress of my project and some of the components that will go into the keyboards. Feel free to comment on my choices!
The drawing of the frame that the Cherry switches will be attached to is done. I just need to have it laser cut in a piece of metal at a local metal shop. The layout looks like this.
I have decided to use Cherry MX switches as these are easy to get (including spare parts) and have been used in the gaming community for years. To get switches that resemble the feel of the original keys, I have chosen red and brown switches for my keyboards. Both swithes are linear but only the brown has a tactile bump. I also had to get the six key switch tester with 6 types of Cherry MX switches. All this device does is to give the user the ability to compare the feel of the different switches. This tool is more a 'nice to have' than a 'need to have' item! I think the feel of the Cherry MX Red is the one closest to the original C64 keyboard.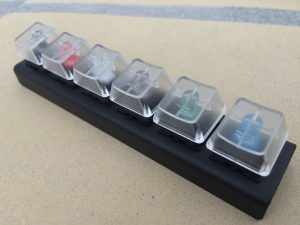 Here are the piles of Brown and Red Cherry MX switches.
Damper O-rings to eliminate the "clack" from the collision on mechanical keyboards when'bottoming out'.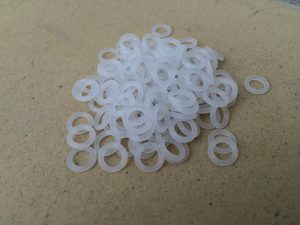 Stabilizer springs and clips for the RETURN key. Stabilizer springs for the spacebar are in the mail and should land on my doorstep within a couple of days.

3D printed keycap converters to use original Commodore 64 keycaps on Cherry MX switches (link).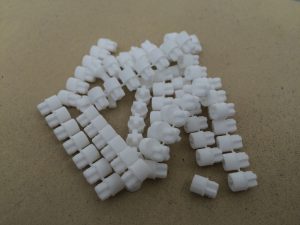 A wire keycap puller tool (for gently removing key caps) and a tool for separating the top and base parts of Cherry MX switches.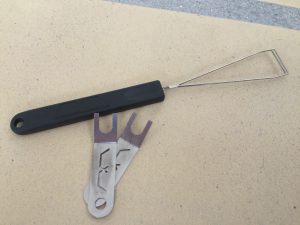 I'm currently working on creating the PCB and after completion, have it made somewhere. I really hope to have a working prototype within the next couple of months! So stay tuned for more info on the project!
UPDATE: the first prototype of the new Commodore 64 keyboard can be found here (link) and the final version of the keyboard, the MechBoard64, can be found here (link).
© breadbox64.com 2016