I recently did a post on the Steelseries Nimbus wireless controller for retro gaming on my new Apple TV 4. generation (link). In the review, I moaned a bit about the great game of Giana Sisters not being ported to the Apple TV yet and that I felt kinda silly playing with a sophisticated gaming controller on the iPad. I do not know if the post was the reason that the developer guys at Kaasa solution GmbH (link) decided to port the game (one can always wonder…), but they did bring to my attention that the game has now been ported! Literally speaking, they posted a comment on the Steelseries Nimbus post (link)! Thanks for the comment Kaasa – much appreciated!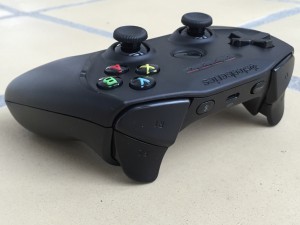 The iOS game Giana Sisters is based on the legendary game of The Great Giana Sisters made for the Commodore 64 back in 1987. The game is a platform game designed by Armin Gessert and Manfred Trenz, developed by Time Warp Productions and published by Rainbow Arts. Ask anyone who was a kid in the  80's and they will probably know the game. However, The Great Giana Sisters has more than a few similarities to Super Mario Bros from Nintendo and was therefore taken off the market soon after its release. The few copies of the original Commodore 64 game that are still out there have now become rare collector's items.
In 2010 Kaasa solution GmbH resurrected the legend and re-released the game on Apple's iOS devices (and as of March 2016 also on the Apple TV). The gameplay is the same as the original, but everything else had been upgraded to current standards, including graphics and controls. The new game consists of two versions – a classic (retro) and a new version. For the retro version, the developers have polished off the 32 classic stages and raised the game to new standards without sacrificing the 'feel' of the original. For the new version, the developers have made 80 completely new adventures for hours of gameplay. And the best thing about it is that it can all be played right in my livingroom, on my big screen tv, laying supine on my couch… Sweeet!
Here are some screen captures from the new version of Giana Sisters.
This is what the new version looks like on my 42 inch plasma TV…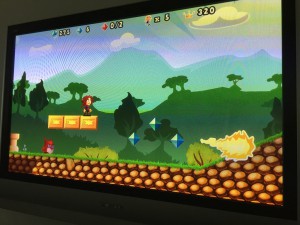 The retro version of the game still has the looks of the original, but without the low resolution graphics.
This is a little trailer Kaasa has released of Giana Sisters.
Enought with the writing… Back to the supine position on the couch…
© breadbox64.com 2016