I have tried to hunt down a copy of the 1984 Parker Brothers diskette version of Montezuma's Revenge featuring Panama Joe for the Commodore 64 for the last 3 years. But so far without any luck! I have managed to get the Databyte version from 1986, but not the original US version. Imagine my excitement when I finally found an auction for the Parker Brothers version on Ebay! I immediately bid on it and waited 5 loooong days for the auction to finally finish, just to find out that I lost the auction by 1 $… Bummer!
However, happiness can be found, even in the darkest of times, if one only remembers to check the email… Shortly after I lost the auction, the Ebay seller contacted me and offered me another copy he had laying around if I was still interested….Heck yearh I was still interested and it turned out that the copy of the game was in an even better shape than the original one I missed out on in the auction. Wuhuuuu! I think it is in pretty good shape considering it being some 32+ years old…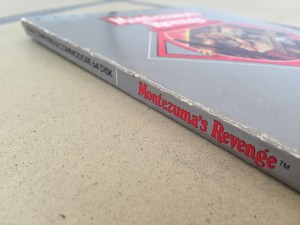 More pictures of the game and the entire game review can be found here.
© breadbox64.com 2016