After waiting patiently for more than two months, I finally recieved my Commodore 64 games back from grading by the Video Game Authority (VGA). The VGA (link) is a company which verifies the authenticity of games, checks for signs of tampering and appoint each game with a standardized grade. In order to be eligible for grading, the games have to be originally sealed. When the grading is all done, VGA seals the games inside high quality custom-crafted acrylic display cases and ships them back to the customer. I decided to have my Rick Dangerous, Out Run and Zaxxon games graded as can be read here (link). These games are the only Commodore 64 games in my (embarrassingly tiny!!) collection that are still sealed…
The games were returned to me about 10 weeks later in this cardboard box with plenty of 'Fragile' stickers on.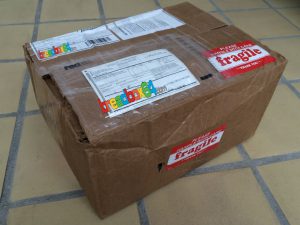 The VGA put this label on the box to make it pass through customs faster. I experienced no problems whatsoever!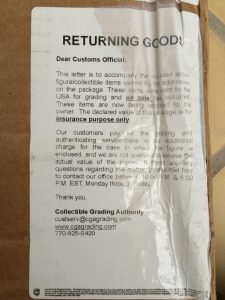 All three games were carefully packed in several layers of bubble wrap and foam.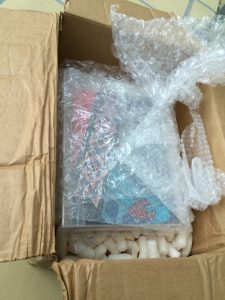 Rick Dangerous (1989) from Microplay got a grade of 95 (mint) which is a VGA Gold Level: "The VGA Gold level consists of the grades 100, 95+, 95, 90+, 90, and 85+. When an item's condition warrants classification within this level, the smallest of flaws are judged and taken into account to determine the exact grade received. The select few items which receive these grades are among the highest quality in existence." Not too shabby, eh 🙂
I had the VGA use some UV resitant acrylic for the display case as indicated by the 'Archival' label next to the gold sticker. This way the colors of the box should not fade over time.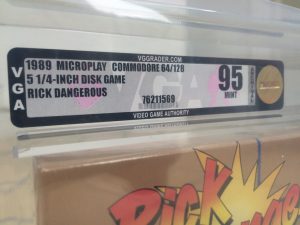 I even had them write me a little 'VGA Grading Summary' with the specific faults of the game…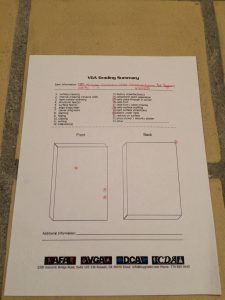 Out Run (1987) from Sega got a grade of 90+ (near mint+/mint) which is also a VGA Gold Level: "A very small percentage of items submitted to VGA receive a Gold level grade. An item's flaws must be very minor, subtle, and can often be difficult to identify with the naked eye. A collector who is extremely condition sensitive should be satisfied with the condition of a Gold level item in the vast majority of instances." I knew that my games were in good shape, but never thought they were that well preserved!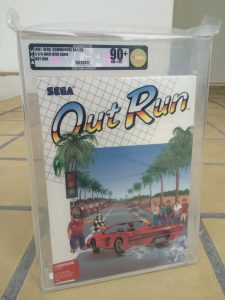 Zaxxon (1984) from Synapse got a grade of 85 (near mint+) which is a VGA Silver Level: "The VGA Silver level consists of the grades 85, 80+, 80, 75+ and 75. The highest grade within this level, an 85, could most often be described as being near 'case fresh'. As a general rule, an item which receives the grade of 85 is a fantastic display piece and can often be right on the edge of Gold level condition. The term 'case fresh' is certainly justifiable, as the average item pulled from a sealed case would grade an 85 due to small flaws which occur when items are packaged or shipped from the factory. For most high grade collectors, an 85 will be satisfactory." I guess this game was as close to entering the Gold Level as it possibly could… Nice!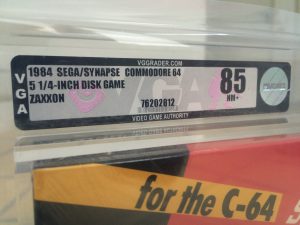 Unfortunatley, when I held the game in my hands it made a weird rattling noise. When I inspected the case a little closer, I realised that disaster had struck this game during transport! The acrylic case was simply broken/smashed into pieces on the right side of the case. Luckily the game is unharmed but the box is not worth much. I got this game from Venezuela, I send it to the US and nothing happened to it. Putting it in a sturdy acrylic case and it gets smashed. I guess s**t just happens…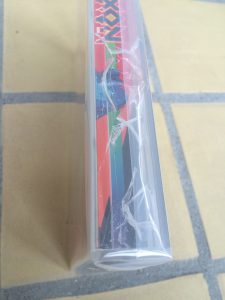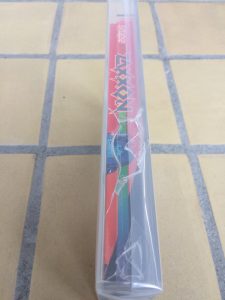 Taking a closer look at the cardboard box, something pointy has clearly pierced the box despite all the fragile stickers… Stupid frigging postal sevices (and a lot more cursing, yelling and even some tears can be put in here as well!!). The biggest problem is that it will most certainly be uphill to have it covered by their insurance as most of the costs are related to shipping and handling of the games between Europe and the US. If I should ever send more games to the VGA for grading, maybe this one will be shipped along so it can get a new case.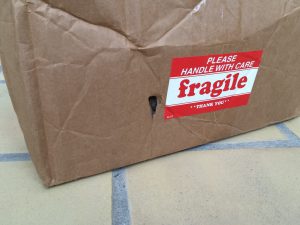 The big question here is (regardless of the broken acrylic case): is it worth the money to have Commodore 64 games graded by the VGA? My starting point was that I knew I had some well preserved games (in really great shape according to the VGA) even though they are more than 25 years old. These games were collected during a period of severel years, so I have no intention of opening them nor selling them. Furthermore, I don't think that having them graded by the VGA and put in fancy cases will make them more valuable in case I wanted to sell them. The market for VGA graded Commodore 64 games is just too small compared to the console market. I only managed to find around three VGA C64 games on Ebay during a period of three months (and they did not sell for the asked price). In comparison, I found hundreds of VGA graded NES games… Finally, the total cost of my sealed C64 games (purchase, VGA grading, shippng etc.) are most likely a lot more than the market value anyways. Increasing the market value should, in my opinon, therefore not be the main reason for VGA grading your C64 sealed games.
The casing part, on the other hand, is what tricked me to have it done! Before they were graded, I had the games stowed away on the top shelf of the closet because I was too afraid something would happen to them. The custom acrylic cases are a safe way to keep them from being harmed/bend/broken or have the shrink wrap removed by a family member (e.g. kids/dogs/turtle). There are certainly cheaper ways to have games put in clear custom made cases out there in the real world. However, I kinda like the idea of having an independent company giving my sweet old C64 games a standardized grade, print a fancy sticker with the grade and slab everything into a beautiful acrylic case. And I really must say that the cases are beautiful! In this context, the VGA has, in part, been critized for making games unplayable when they are locked inside a case. I believe that the physical media of C64 games serves a completely different purpose compared to consoles (e.g. the NES) as copies of C64 games can be found on the internet quite easily (at least that is what I've heard..).
So was the VGA grading worth the money to me? I did not think I would care as much about the grades as I do and I am pretty sure I will send more games to the VGA for grading in the future. So my answer is yes! And the best thing is that there will be no more hiding of old Commodore 64 games in the closet! These three VGA graded puppies are definately going out on display…
© breadbox64.com 2016