I recently recieved two cases from the Kickstarter campaign for my C64 Reloaded boards. A transparent and a blue one. The blue case will eventually get orange function keys whenever Phase 5 from the Indigogo Campaign have made the new key caps. So I wanted to mod the case with an orange LED instead of the standard red one. I got 100 orange LEDs from China on Ebay for 4.50 $. A 100 Ω 1% resistor was soldered to the plus side of the LED and the other end of the lead went to the plus side of the plug that goes onto the pcb for the 5V source.
This is how the original LED and plug looks like – but it was red and ugly for my new case…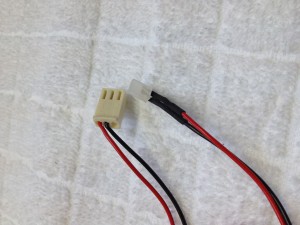 All the stuff needed for the mod: A 100 Ω 1% resistor, a small 3 pin female plug, some heat shrink, a gas burner and an orange square LED (2 x 5 x 7 mm in size).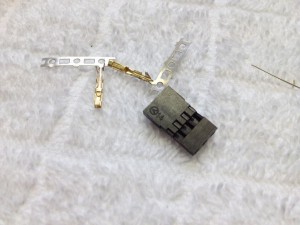 The lead was then crimped into the female part of the plug using an orange wire – when you mod, why not make it look cool on the inside as well…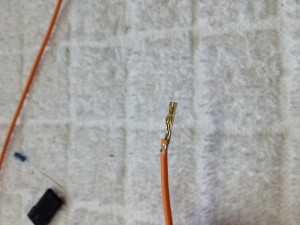 The female connector assembled and ready for installation into the C64 reloaded board in comparison to the original lead showing the plus and minus side of the connection.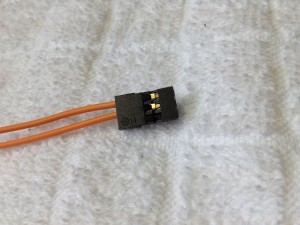 The square LED with the resistor in shrink wrap.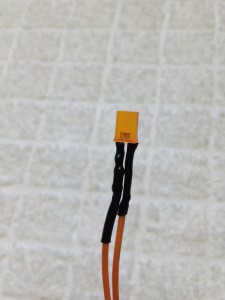 This is what my efforts looked like when powered on. Success! I always have a spare board for fooling around with. I'd rather burn an old repairable Commodore 64 PCB than a newly made C64 Reloaded…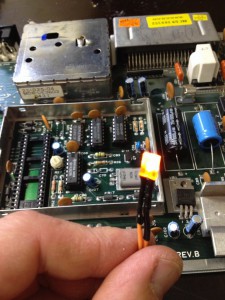 And the final look in the blue Kickstarter case… Now I'm waiting for the new keys to show up from Phase 5!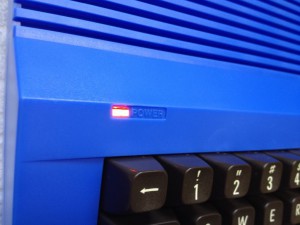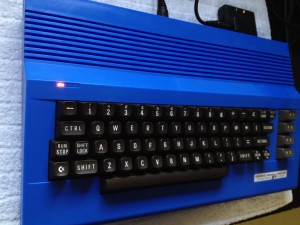 © breadbox64.com 2015