Back in the days, Commodore 64's were modified to accommodate other keyboard layouts with special character sets – like Spanish, Swedish or Danish. I have an Assy 250407 Rev. B breadbox (link) that was originally used at a Danish high school, so the character set has been changed to Danish by swapping the Kernal and Character ROM's. I have had a few of these machines and it seems like the chips and adapters were manufactured by a professional company back in the days. A .pdf copy of the Danish mounting instructions can be found here.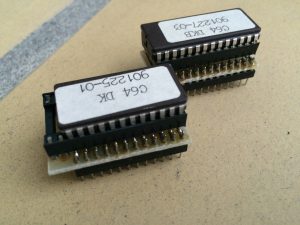 Instead of swapping the keys, small labels were added to indicate the three additional characters.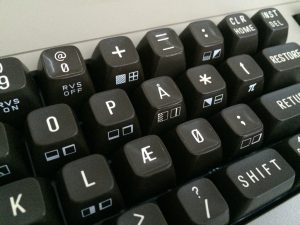 And here are the three special characters…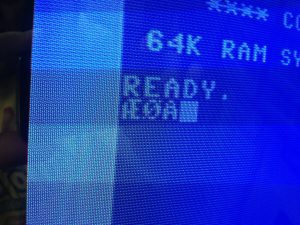 The small PCB's simply replace the original Commodore Kernal and Character ROM's.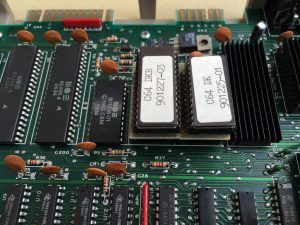 I also wanted to share another professionaly looking Kernal/Character set that I have not seen anywhere else. It was 'hidden' in a broken machine I came across and I was quite surpised to be greeted with this screen when the machine finally booted.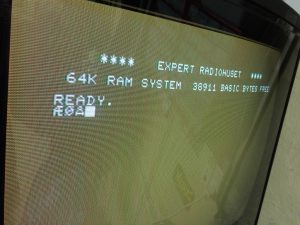 It also has a Danish character set, but the colors of the background, border and text have been changed. Apparantly the company 'Expert Radiohuset' was a local radio/electronic's store that was placed just a few miles from my house back in the 80s. My best guess is that the store modded the ROM's for their in-store machines to get peoples attention – but I have no idea why they would change it. I dumped the ROM's and the only changes I could find were made to the Kernal and related to the colors and text, much like I did in this post (link). The ROM's can be found here as a .zip file (link).
The PCB's are green on top and the quality actually seems higher than the ones described above. The ROM's look like this.
And here are the ROM's mounted in a machine.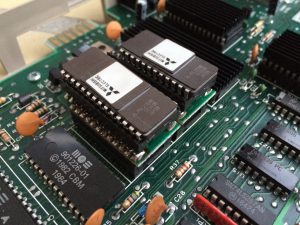 I guess the idea of modding the start-up screen by customizing the colors and text is not new after all…
© breadbox64.com 2016