My quest for obtaining the last Commodore 64C motherboard version in my collection (Version B-3) has come to an end! I finally managed to get a copy of the Assy 250466 motherboard for a reasonable price. I got the machine from a guy in England on Ebay. The shipment was delayed a little as the seller was waiting for some sturdy shipping boxes to come in. This was of course not a problem as I wanted to get the machine unharmed. However, I was therefore a bit surprised when I finally received the box and it was looking like this… Not really a sturdy box in my humble opinion and not really the way to handle a package labeled with fragile stickers everywhere, either!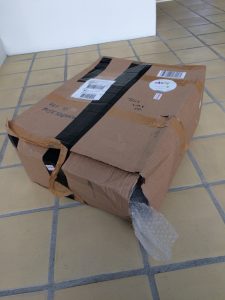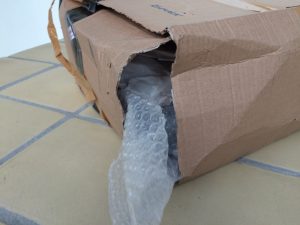 But look what was unharmed on the inside of the cardboard box – a nice white Commodore 64C box with an even better looking machine on the inside! Sweeeet!!!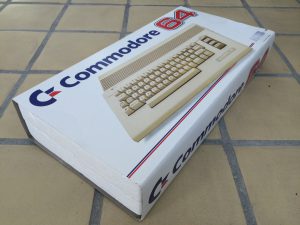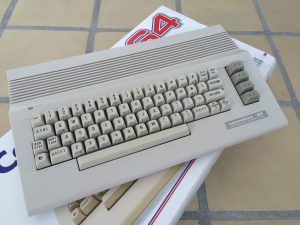 The keyboard is, in lack of a better phrase, the 'Old Style Commodore 64C' version with prints on the front of the keys like on the breadboxes (the plastic is of course white instead of greyish/brownish). I really like the looks of this version of the keyboard.
Unfortunately, one of the plungers broke during my cleaning procedure of the keyboard (red arrow). The easy fix was to get another plunger and simply transfer the bluish rubber part!
The machine came with a metal shield/bracket which functions as a heatsink for all the major chips. This feature is sure is a lot better than the usual cardboard RF shield found in the older breadboxes!
And under all the metal… a pretty little Assy 250466!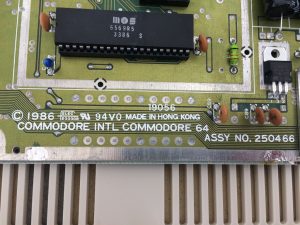 The power switch was not functioning properly when I got the machine, so I replaced it with a new one.
As I already had the soldering iron out, I also put in some new electrolytic capacitors and voltage regulators as described here (link).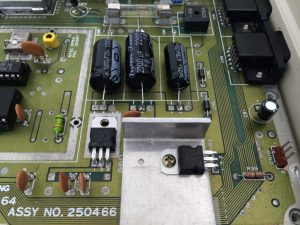 The Version B-3 motherboards have the same sluggish Restore key as all the long boards. Capacitor C38 (51 pF) was therefore replaced by a 4.7 nF one to make the Restore key work like all the other keys as described here (link).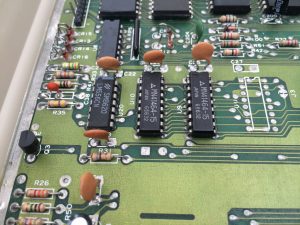 More images of the machine can be found here (link).
© breadbox64.com 2016